With a variety of options in styles, materials, and designs, exterior timber framing can be used to change the look of a home and draw attention to its unique design. Leaving the timbers exposed for visual effect has been a growing design trend for higher-end home construction.
Many homeowners are drawn to this design because of its interior advantages but the timber frame elements can elevate any exterior. Selecting materials that fit your preferences and budgets is an important part of the architectural process.
There is no mistake that timber frame elements can make a dramatic statement in any outdoor space. These details often include ornate gable elements, entrances, and decorative columns and beams.
Add Strength And Beauty
Timber frames are often used to add structural support for walls, roofs, and large structures. The main benefit of exterior timber framing is its durability. It is strong enough to withstand extreme weather conditions such as high winds and snow load and the natural grain of the wood adds texture and character to any home's façade.
The strength of a timber frame construction removes the need for load-bearing walls cutting through the middle of the house, so you can design the layout in any configuration you can imagine.

Timber Frame Entryways
Entryways are a prominent feature in any home, making them the perfect place to utilize timber framing.
From simple designs to really grand and complex structures, a timber frame-constructed entryway will be an incredible statement for your home. You can create a modern or very traditional look depending on the timber frame design you select.
Wooden elements used for exterior framing should be chosen based on factors such as size, shape, and color. Designers may consider wood species selection such as  oak, fir, redwood, or pine for their projects depending on the desired aesthetic effect. For maximum impact and visual appeal, you may opt for accent pieces like trim and moldings or decorative brackets. With careful planning and thoughtful choices in materials, you can transform your home with beautiful exterior timber frame styling.

Timber Frame Gable Details
Timber frame gable details are a great way to add more visual interest to your home. The exterior of a house can be enhanced with a unique look and choosing a darker stain or a certain species of wood like in the sample below can compliment any brick or siding. The customization and flexibility of decorative timber frames allow for interesting angles, curves, and shapes.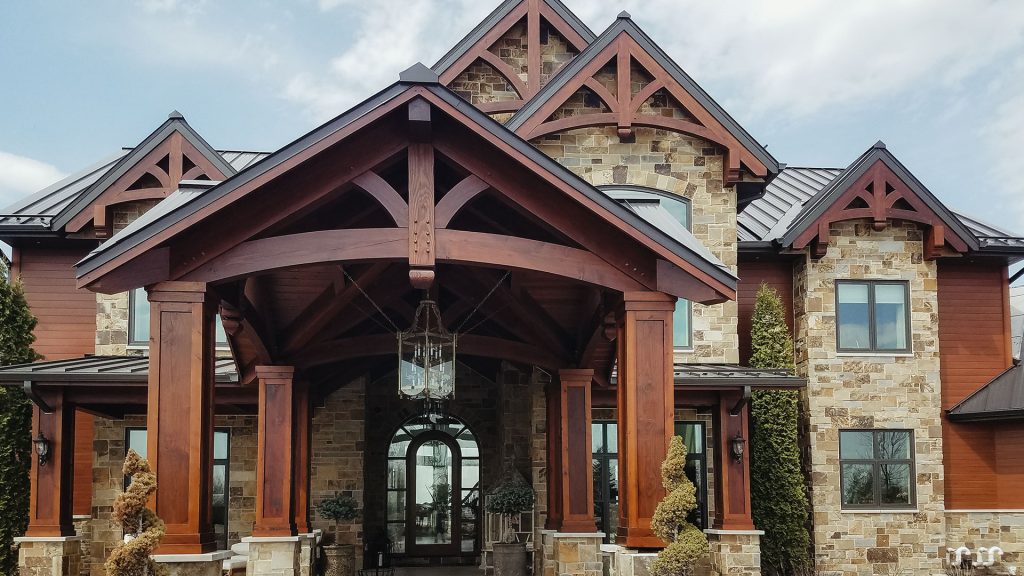 Timber frame home construction delivers an opportunity for wide open spaces on the interior of the house and the most unique design elements on the exterior.  If you are interested in learning more about timber frame construction, contact us.