Man Cave Party Barn in Northern Wisconsin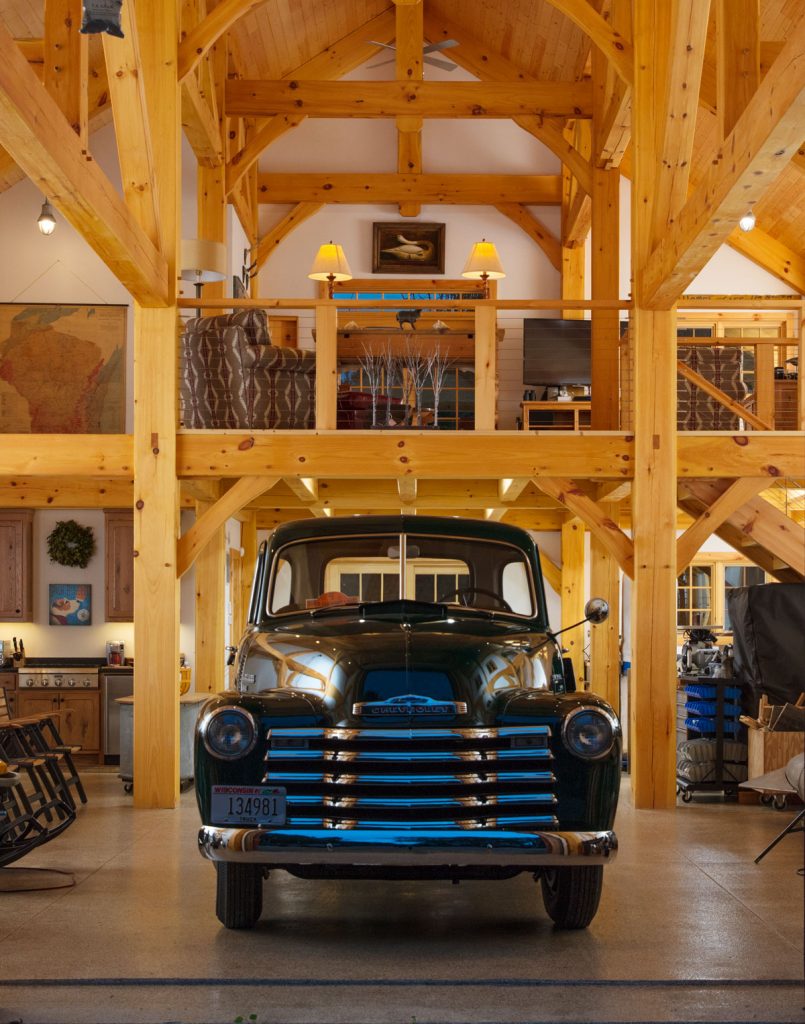 Remember the good ol' days as a kid when you could escape from the responsibilities of everyday life and head out back to the treehouse? Our clients embraced the spirit of "getting away from it all" for inspiration in designing and creating this Man Cave – Retreat Barn in northern Wisconsin. This party barn was just the right mix of modern conveniences and traditional timber frame building details.
The end result is a craftsman oasis in the woods. Vaulted ceilings to a loft over the living space and plentiful windows open the home to vistas of the woods and sky. Custom wood timber framing, wood ceilings and floors, and the open floor plan and loft create a warm and cozy, rustic atmosphere. Sip on a longneck while working in your shop or out on the timber framed deck while overlooking the stunning hardwood forest.
Man caves and party barns are what you make of them, and can serve a range of purposes from work space and man cave to backyard bar and outdoor living space. Just think of it as a place you'd like to unwind after a long day of grinding away at your regular 9-5, or the place you'd like to practice your craft after hours.
True to our client's dream – this home has a luxury lodge feel with real pine tongue and groove ceilings and is tucked in a deciduous forest in Wisconsin. This custom workshop retreat was designed with longevity of character in mind and placed on the property to preserve the natural setting, privacy, views,  sun exposure and shade.
Upon entry into the impressive man cave residence, you will appreciate the detailing throughout the building. From the natural oil finish to the cable railings and mortise and tenon joinery, the barn feels substantial with a rustic "in the rafters" feel.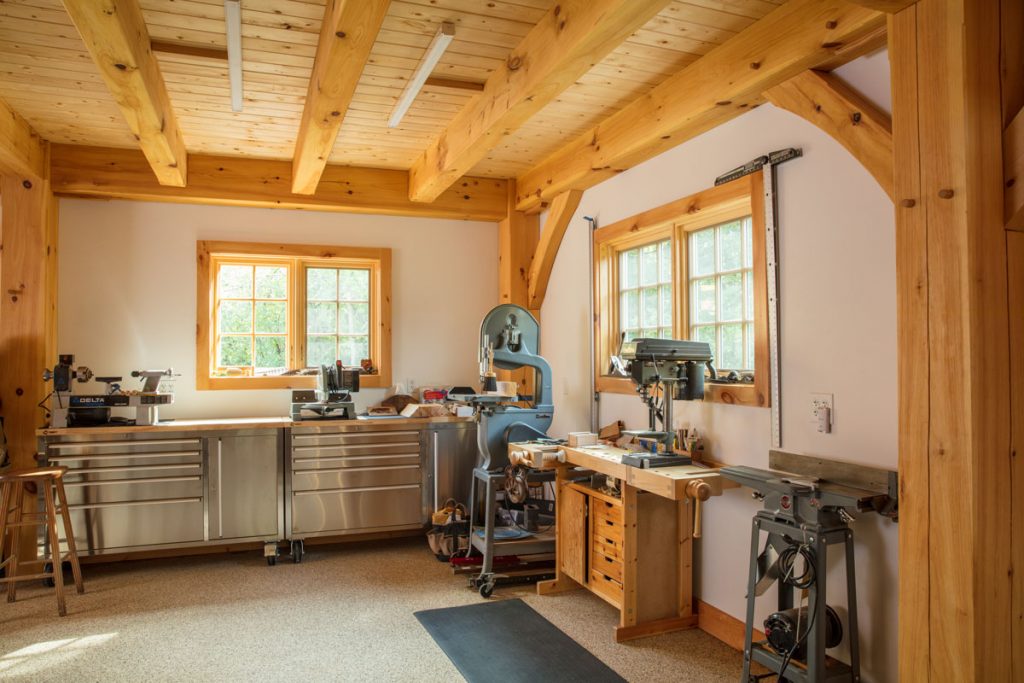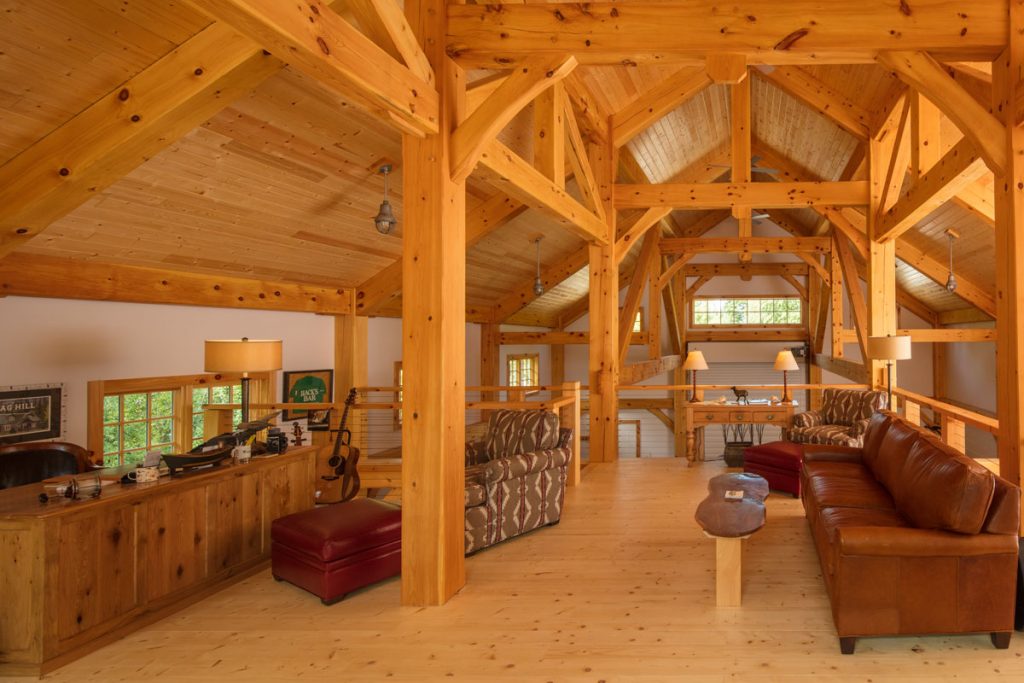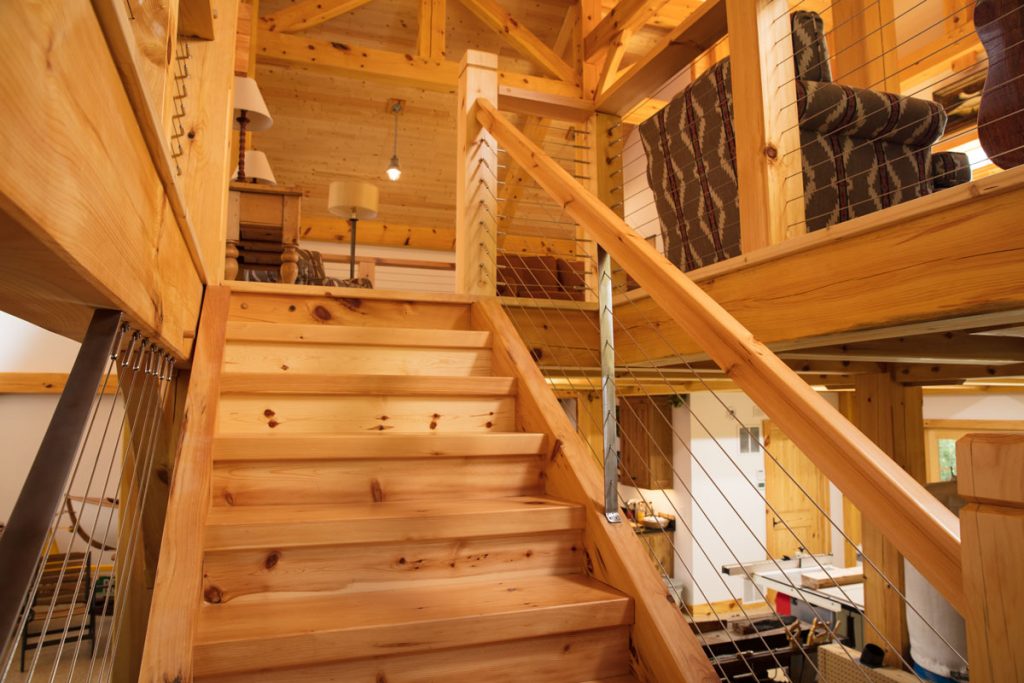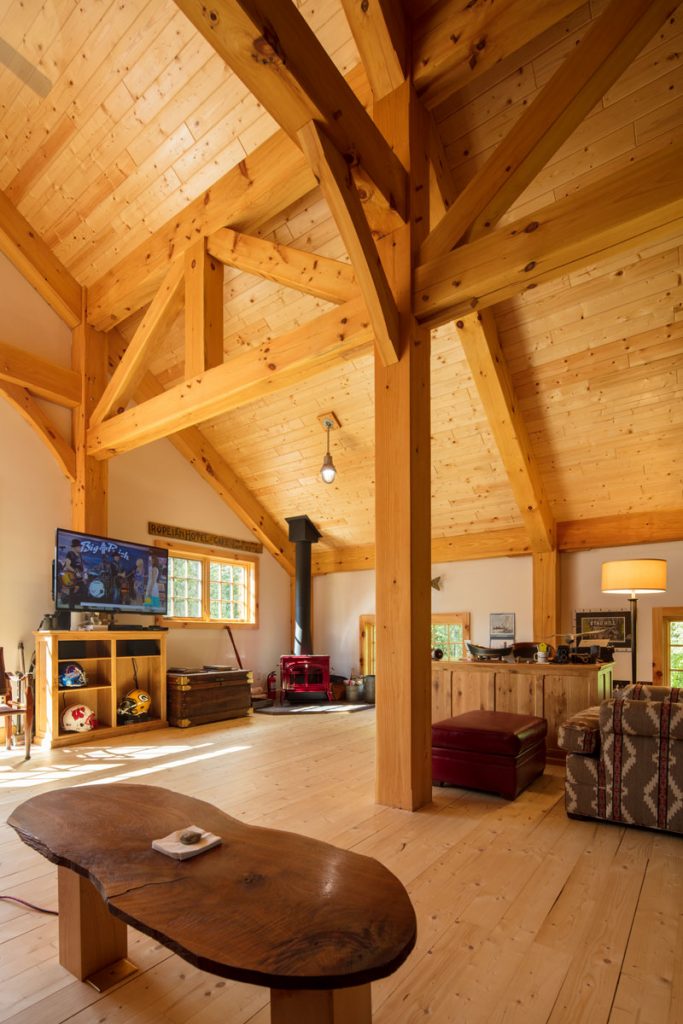 With more than 3000 square feet of detail finished space, this is no pole barn. The timber frame construction includes:
White pine timber frame, handcrafted.  Natural oil finish.  Installed in 1 ½ days.
Enercept structurally insulated panels (SIP Panels). Installed in 4 days.
Man Cave / Custom Framed Party Barn Layout includes:
Wood shop
Full bathroom
Complete kitchen
In floor heat/epoxy floors
Custom open tread staircase with cable railings
Patio and deck on back of the structure
Interior storage for collection of antiques including a truck and boat collection
Cold storage for tractor and lawn equipment
Outdoor living space with fire pit
Decorative double barn doors for main entrance
Exposed loft and entertainment area
This backyard party barn in the Midwest is the perfect mix of your favorite pastimes and some much needed relaxation. This is the third project Custom Timber Frames has completed for this client and the vision and final wood detailing of Timber Frame Construction make this structure the perfect all-season hangout.
ABOUT US
Custom Timber Frames origins are in Madison, WI. We engineer, design and fabricate all of our designs from our own facility where we handcraft raw logs into custom posts, beams and rafters to be joined together as the structural backbone for residential and commercial projects nationwide. If you are in the design process don't hesitate to contact us today! We ship and assemble nationwide.
Photography by Image Studios, Inc.