Northwoods Hunting Retreat – A Different Kind of Deer Camp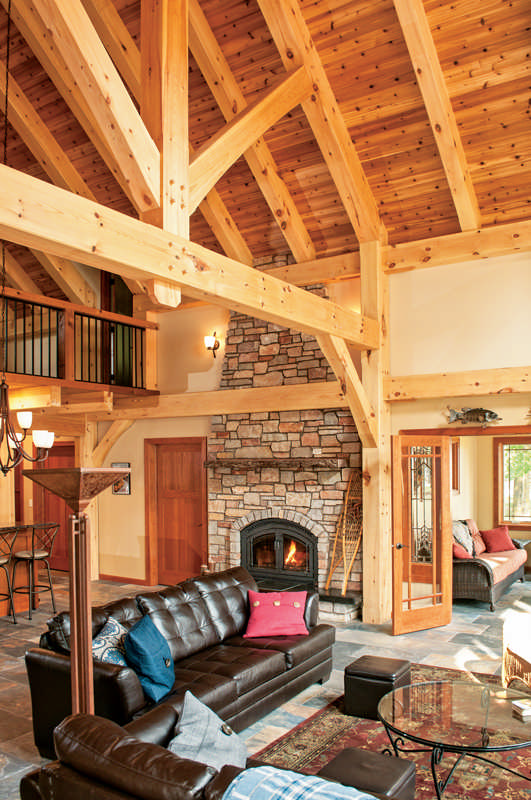 For may hunters, the annual November pilgrimage to deer camp involves loading up on propane and blankets and heading north to an uninsulated, one-of-a-kind shack and sacrificing basic creature comforts in the name of tradition and manliness. But the modern day hunting experience is changing and timber frame construction is creating spaces to bring the lodge experience to deer season.
We're seeing more and more clients wanting to get a little closer to the land, except the only deer you'll be sleeping next to are the ones on your trophy wall in the Great Room.
Hunting Lodge Home Details
Built: 2015
Location: Lake Namakagon, Cable, WI
Construction: Timber Frame from Whole Log Home
Square footage: 2,900
Bedrooms: 3+
Baths: 2
See Entire Project Gallery HERE
Private Year-Round Retreat
Your timber frame retreat will serve as a family gathering place all year. From your secluded retreat, you'll be able to listen to the loons at night while enjoying the crackling bonfire in the outdoor fire pit and getting lost in your thoughts looking up at the Big Dipper.
Your timber frame northwoods home will serve as basecamp for many outdoor activities. You'll be able to enjoy the outside when you want and return to your leisure space throughout your entire visit. A few of the activities from one of our timber log home retreats include:
Deer Camp
Waterfowl and Upland Bird Hunting Weekends
Fishing Excursions
Family Weekends
Snowshoe and Snowmobile Getaways
Relaxing Fireside Thinking Sessions
Ice Fishing Events
Golf Escapes
In addition to main home structures, we also create ultimate Timber Frame Man Caves and Hobby Buildings. We travel throughout the upper Midwest including Wisconsin, Illinois, Michigan, and Minnesota. Let's embark on a building experience together. Hunting camp will be here before you know it.