Modern Timber Frame Design
When you go back to the roots of modern style design, you almost always run into Frank Lloyd Wright's prairie style. He inspired a calling back to nature where our buildings fit into the surrounding environment and embraced the natural elements of fire and light. He encouraged the use of local materials, including stone and wood, that could be crafted on site for each specific home.
The beautiful natural wood tones of timber frame construction are a perfect fit for modern architecture. Using some of the earliest construction methods in every job site assembly brings real handcrafting to each project. Modern timber frame homes offer open layouts with expansive window openings that frame the outdoor landscape. Timber homes are easily adaptable to the main tenets of modern design: flat planes, large windows, elevation changes, and integration with nature.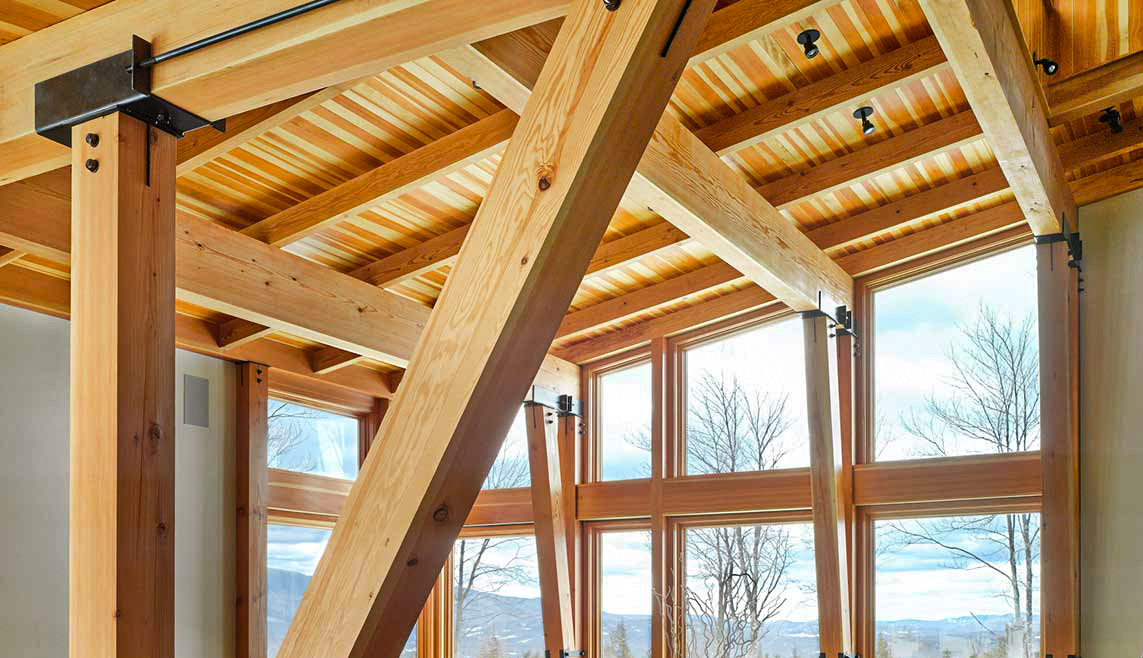 Reach for the Sky  |
This custom home features gorgeous Douglas fir timber frame features black metal brackets to add to the modern character.
No more walls and additional space. The trend has been to minimize the number of walls internally in a home – timber frame homes specifically – because of the beauty timber frames add to a space. Previous designs had well-defined areas of the house such as the living room and the dining area. Now, there's merging happening, room spaces are opening up and sometimes even configured without any actual walls for separation in an entire floor plan. By embracing modern design principles, including the idea of the "hearth of home", timber framing provides the feeling of more space and overall makes your home look bigger.
The unique elements of timber framing create a timeless rustic charm, while using the bold, minimalist style of contemporary architecture. The renowned dependability of timber frame construction paired with the clean lines found in modern architecture trends guarantee excellence in both structure and artistry. With a sleek design that embraces any lot's natural surroundings, it's no wonder these modern timber frame homes are growing in popularity throughout the country, and throughout the world.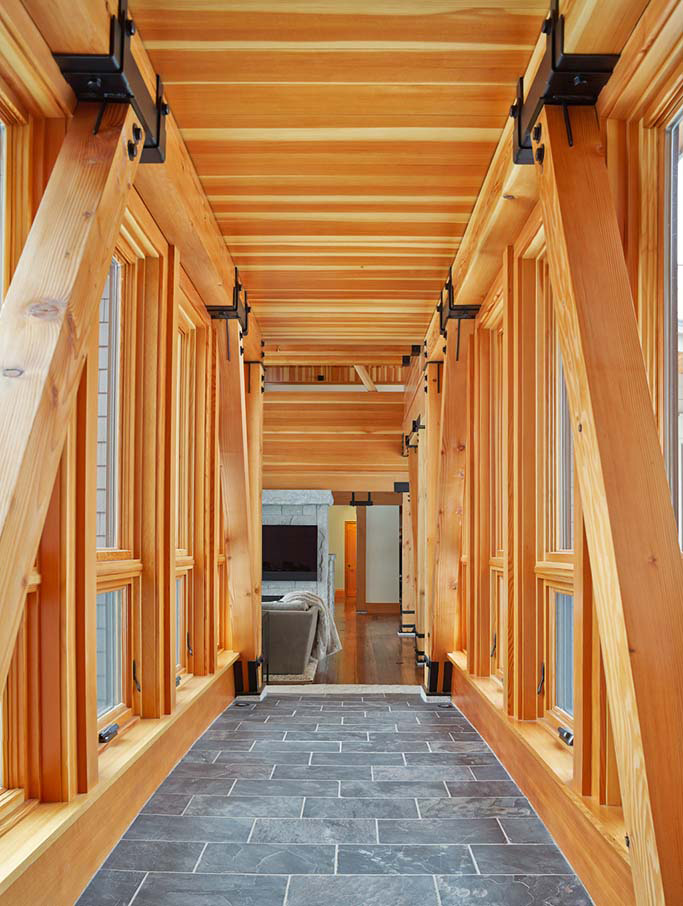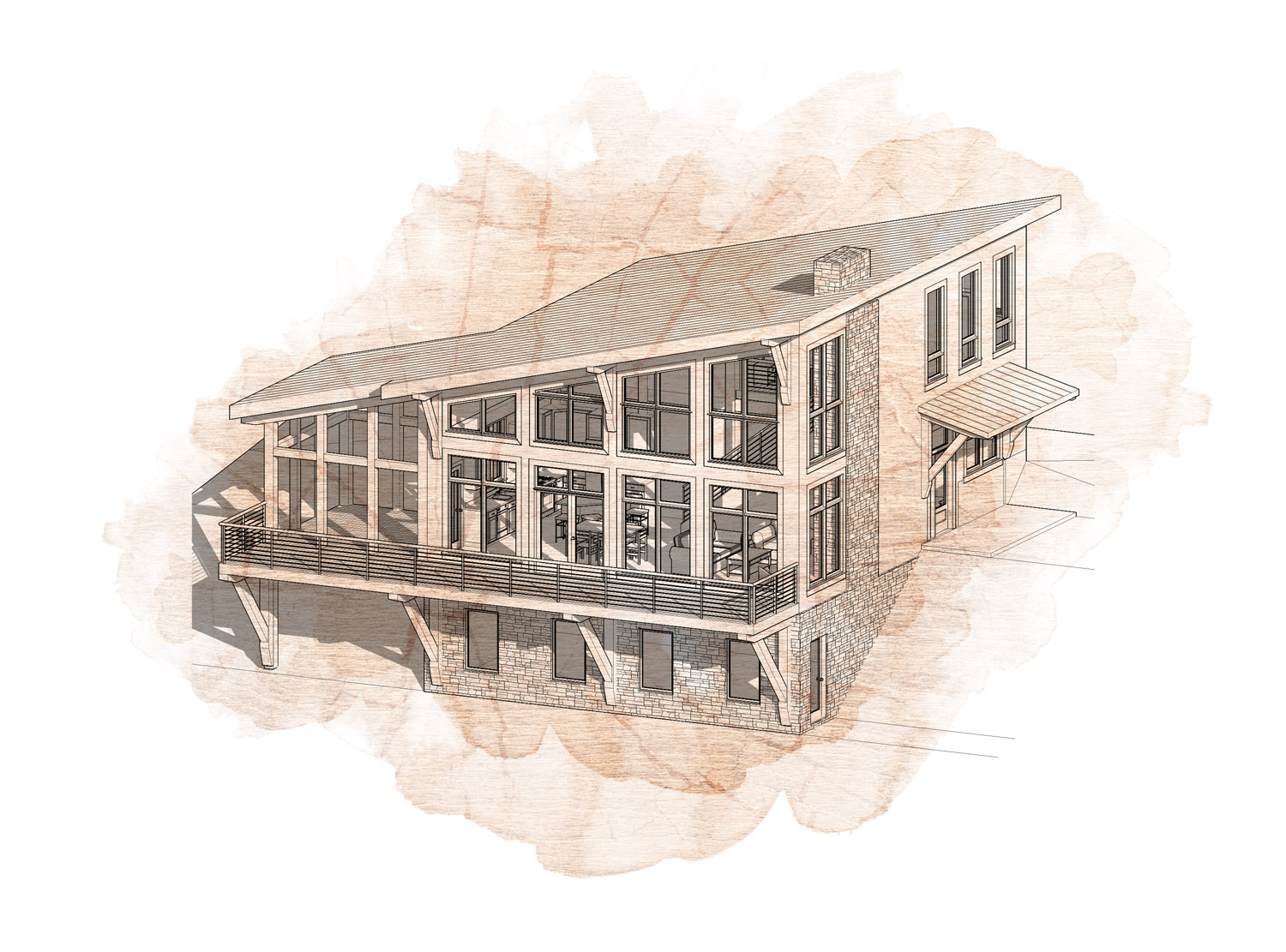 Custom Timber Frame  | Modern Design Overhead
Our modern designs have no problem showing off their timber frame features, as the exterior is lined with masterfully cut beams. The floor-to-ceiling windows are specifically designed to take in sweeping landscape views while filling the home with natural light. Outside is an enormous porch area, the perfect entertainment space under the cover of overhangs that provide shade from the sun and shelter from the rain.
The instant allure of a timber frame home is the soothing mix of clean, contemporary lines and a well-balanced use of space. The vaulted ceiling helps to make the limited square footage feel much grander than it actually is, while warm wood tones keep the interior from feeling busy or cluttered. Clerestory windows in the main living environment keep a modern timber home bathed in natural light throughout the day.
Choose a plan from our library or work with our in-house designer to develop the perfect contemporary look for your lifestyle. Historic, yet modern, timber frame homes offer a best-of-both-worlds building experience. Our styles are a timeless architectural form, however, the exposed posts and beams distinctly express mid-century inspired simplicity. The timber frame is an intricate web of parts that both support and beautify a home – every piece is as necessary to the structure as it is to the style.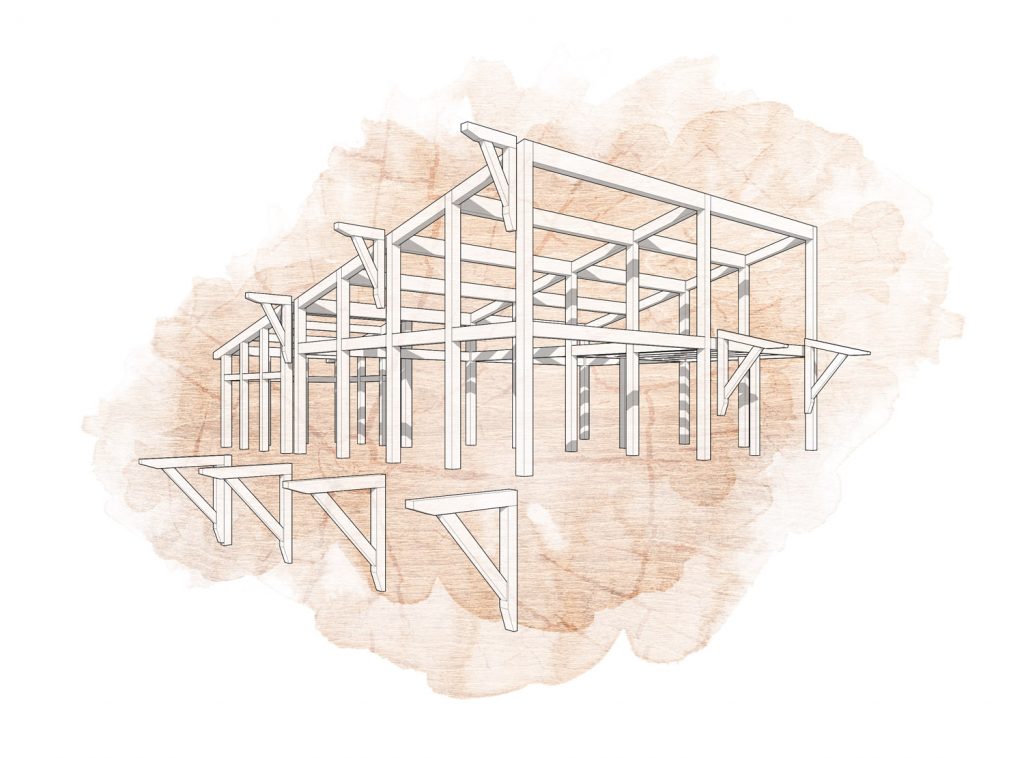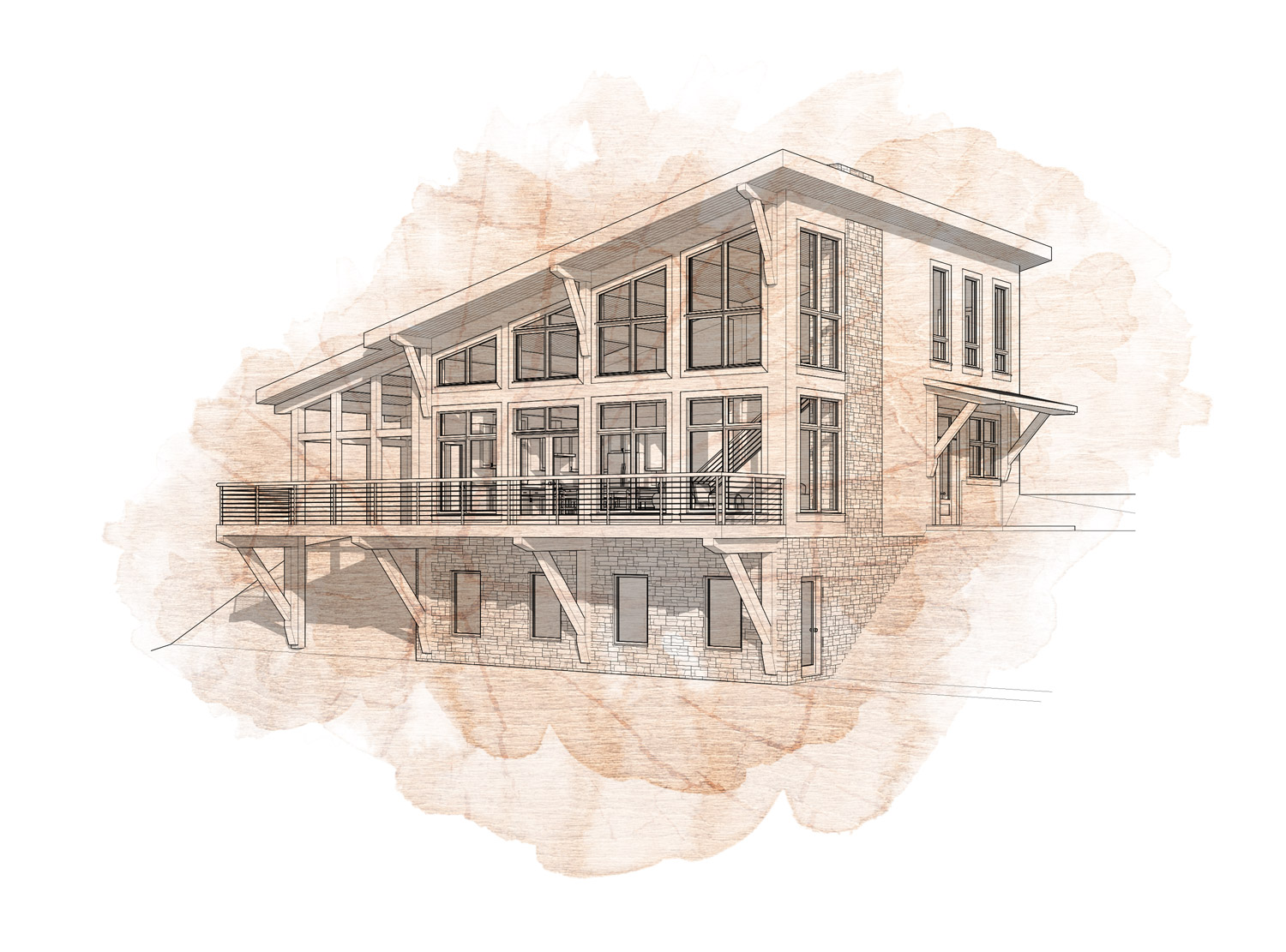 Frame Perspective  |  Front Perspective
Get an inside look at the framing real frame structure of your timber home with our designs which include skeleton frame drawings and perspective views.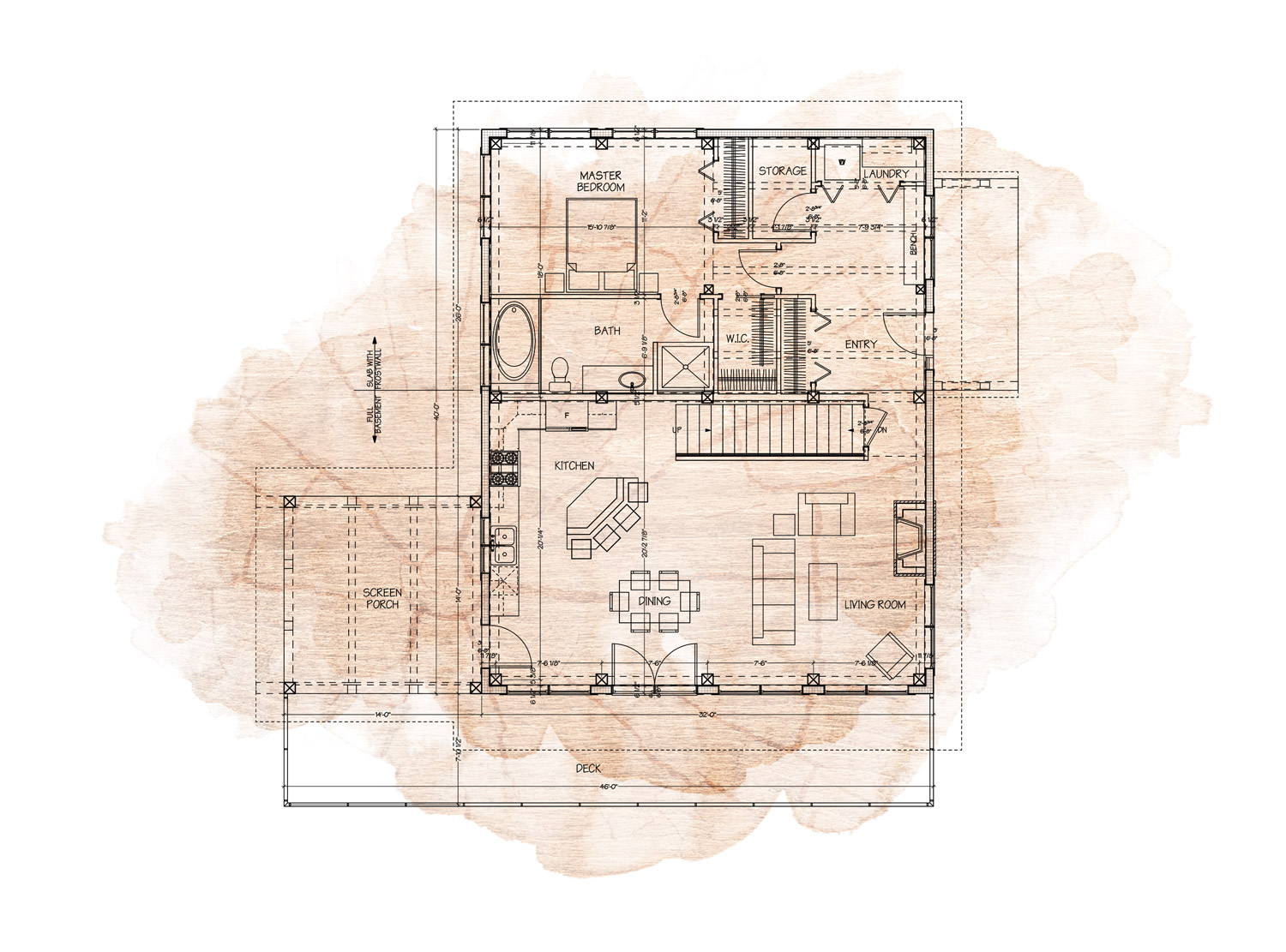 Floor Plan  |  First Floor
An architectural floor plan can define the layout between rooms, spaces, and traffic patterns for a timber frame home.
Beautiful Natural Wood   |  High Clerestory Windows
The natural wood tones of timber home construction are a perfect fit for modern lake home or cabin style. Combine that with big windows that frame your landscape and open layouts that make the most of your square footage and you get modern timber frame architecture.
While being a central design statement in your home, architecturally modern window styles are responsible for providing light, insulation, and proper ventilation. Large windows and doors are great because they look much more majestic and beautiful and also allow you to further integrate with your home's surroundings. The more light entering the house, the more spacious the space feels. Bringing in light is crucial for a custom modern timber wood home.