Destination Driftless – A Wisconsin Trout Trail Retreat
Destination Driftless
A Wisconsin Trout Trail Retreat
Project Goals
Our clients came to us looking for a getaway for them to escape the city and spend time in the outdoors. This specific site was chosen for it's majestic natural views and it's immediate proximity to some of the best trout fishing streams in Wisconsin's famed Driftless region. The home site overlooks the banks of Vernon County's famed Bad Axe River which serves as an omnipresent reminder to keep a rod and reel within reach. Looking for a modern home design to blend into the natural landscape, our client's key design desires focused on an open layout to accommodate expansive openings of glass to capture the incredible views.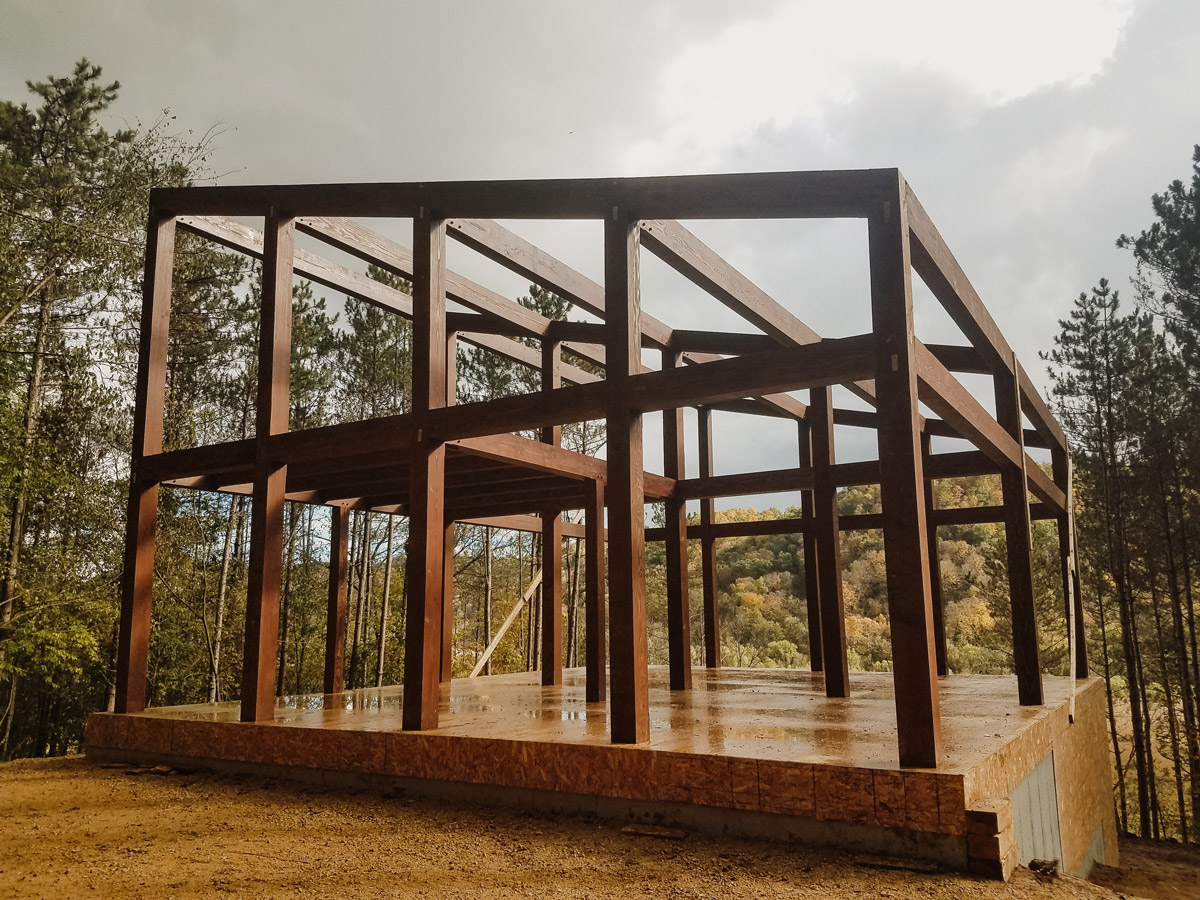 Connecting Spaces  | Seamlessly bringing the outdoors in 
Combining modern design with traditional materials
Design Process
Our first meeting focused on information gathering including goals, inspiration, and finding out exactly what our clients wanted in the building. Our design team worked through preliminary drawings that offered two different designs/versions. Once the final direction was settled, we designed the timber frame structure and construction documents. The glass wall on the project required a fair amount of engineering to ensure it performed against high wind forces. All Custom Timber Frames projects are engineered by professionals in the field of heavy timber engineering and we are accustomed to accommodating design aspirations to create a truly custom home design.
The Timber Frame
To meet engineering requirements, we used Douglas fir timber graded #1. Due to wind load requirements, we created a hidden steel plate system on the exterior of the glass wall. The interior exposed timber is stained with an American walnut stain. The exterior timber framing is Doulgas fir sealed with a PPG stain. Custom Timber Frames uses Fire Tower Engineered Timber – learn more about FTET here.
Custom Timber Frame  | Incorporating Natural Landscape
The home site overlooks the banks of Vernon County's famed Bad Axe River which serves as an omnipresent reminder to keep a rod and reel within reach.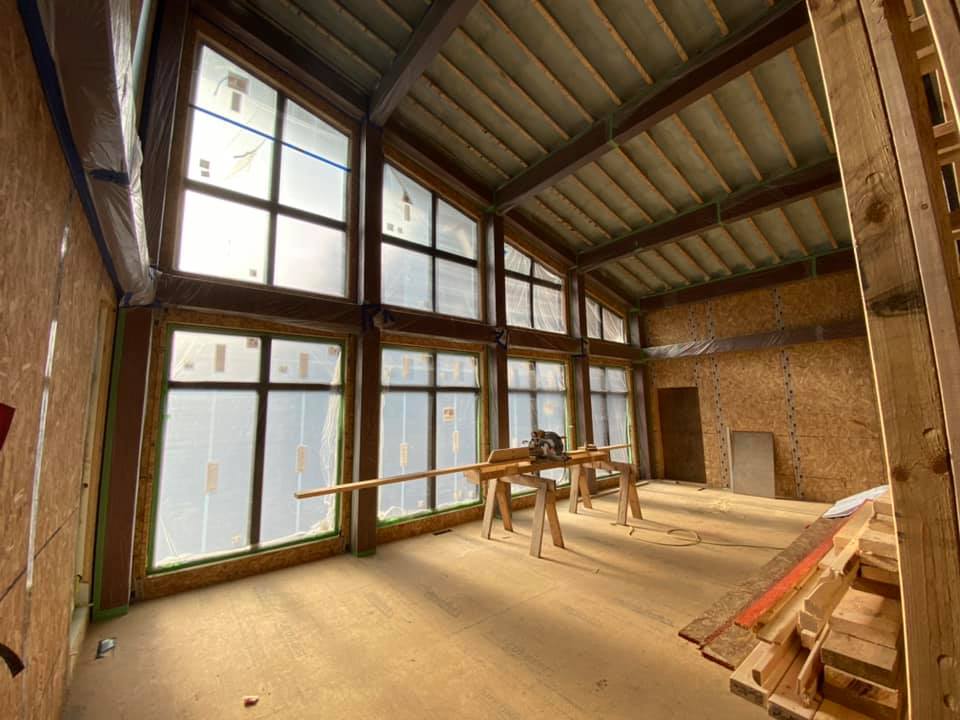 Challenges
The biggest challenge we faced is the home site setting. Situated on a very steep embankment, access and staging required serious planning and an erosion plan to protect the downhill slope. The contractor installed an access road specifically to handle the heavy equipment necessary for construction. All timber frame material was unloaded at the bottom of the hill and maneuvered in small loads. The structural insulated panels (SIP) used for wall sections were moved individually. One of the special things about timber frame homes is that people drawn to unique spaces that include natural immersion. So, while not unique to this project, our team has years of experience with challenging build sites.
Contractor Partner
In a project like this, we work hand-in-hand with a local home builder to deliver the finished home to the client. We are fortunate to have regional partners to help us complete these complex, impressive structures. In this case we worked with Lautz Lassig, an ahead-of-the-curve custom builder out of West Salem, WI. From site prep to the final nail, the team at Lautz Lassig carried the vision of our initial design and timber frame/panel build through to the end.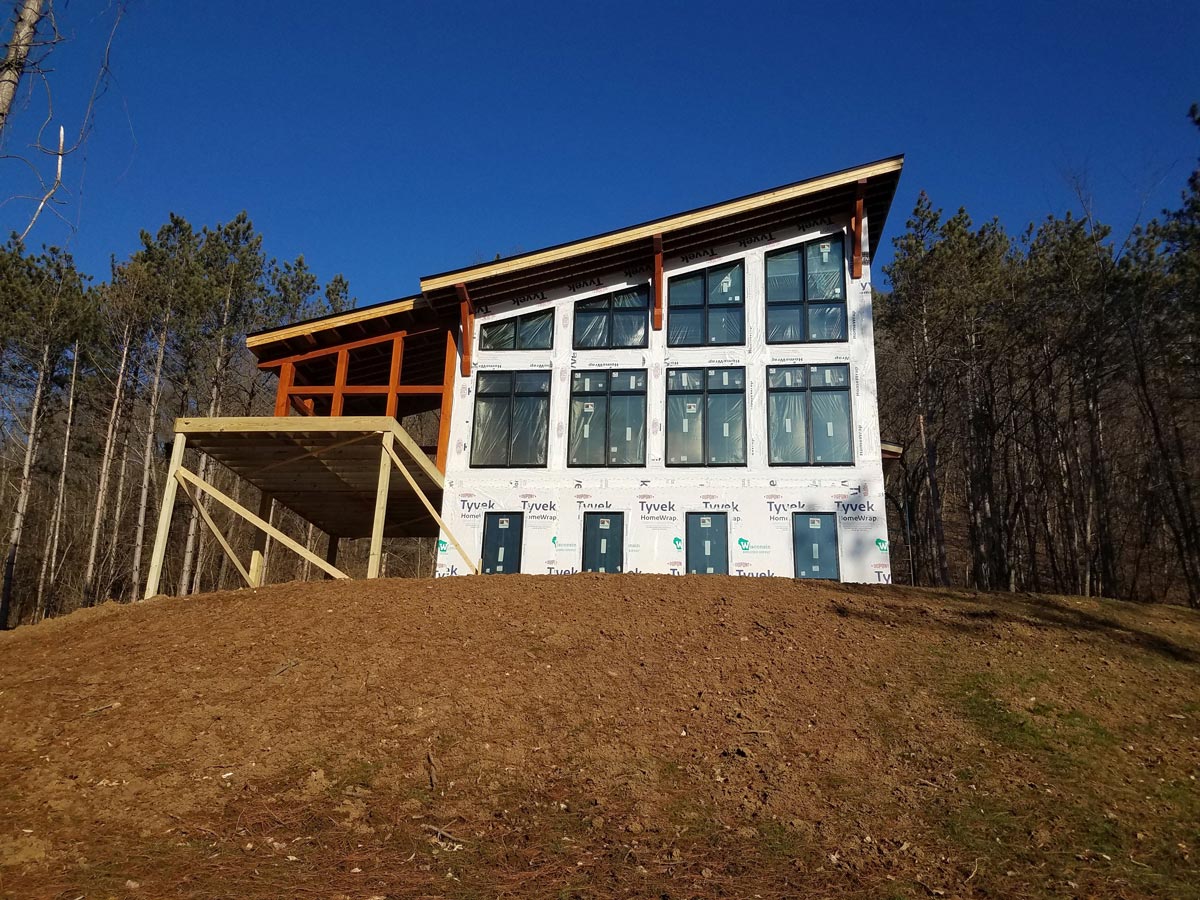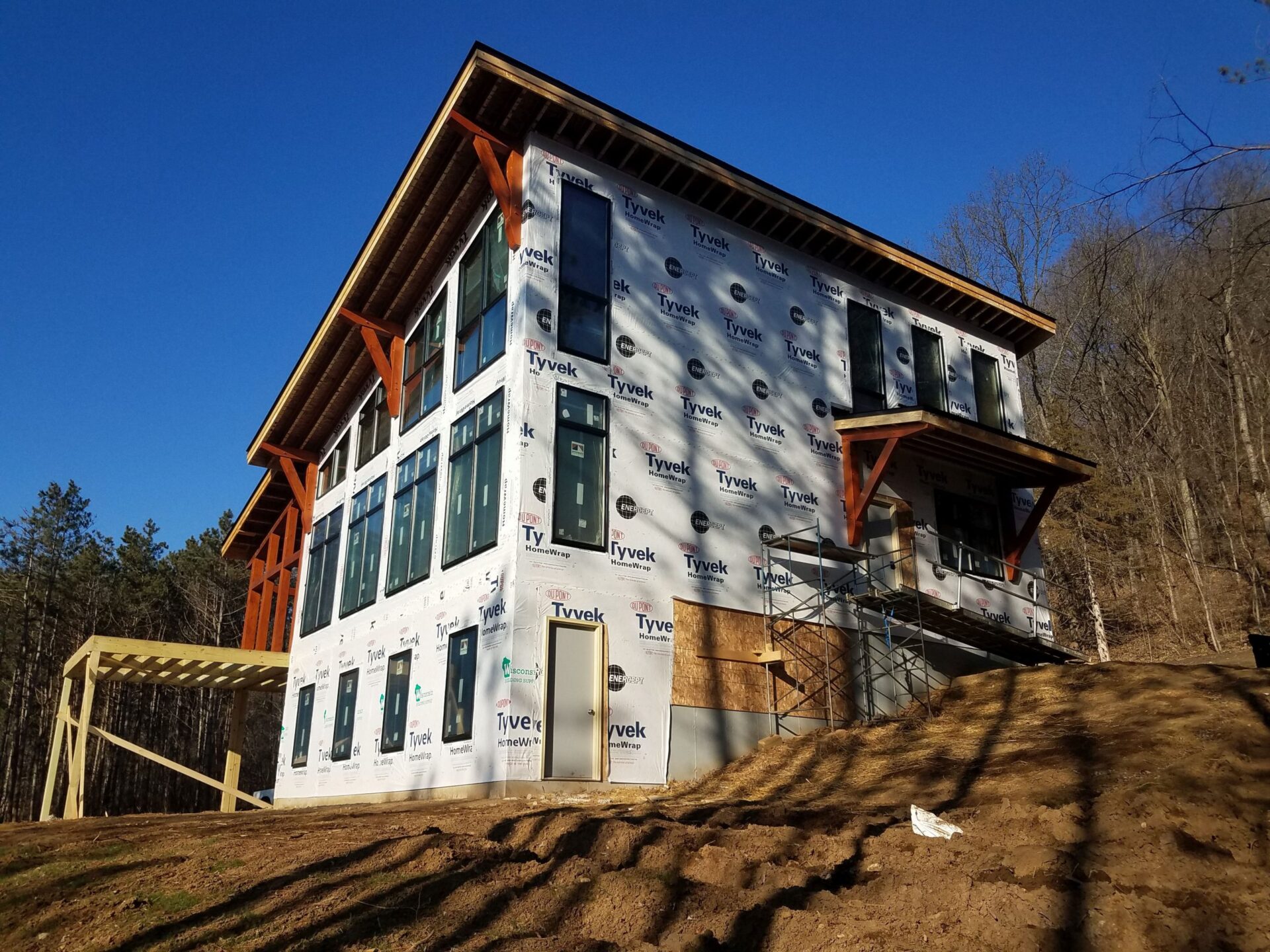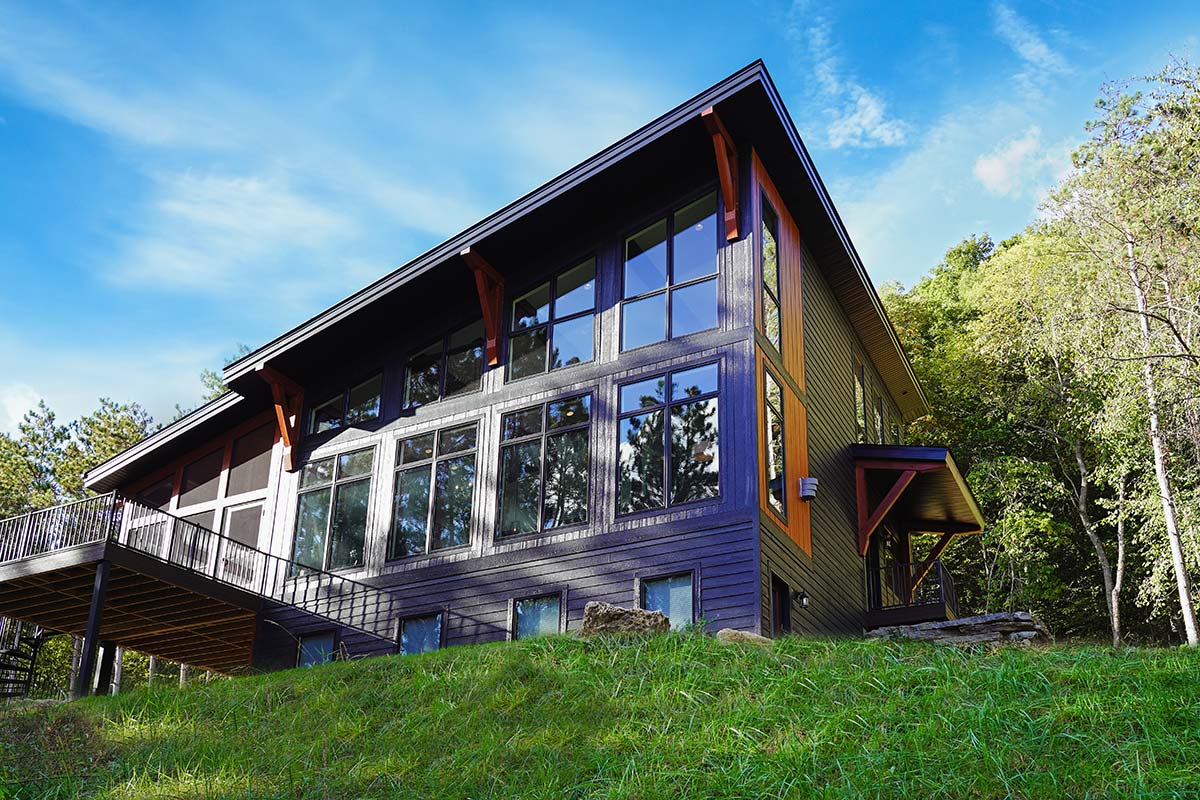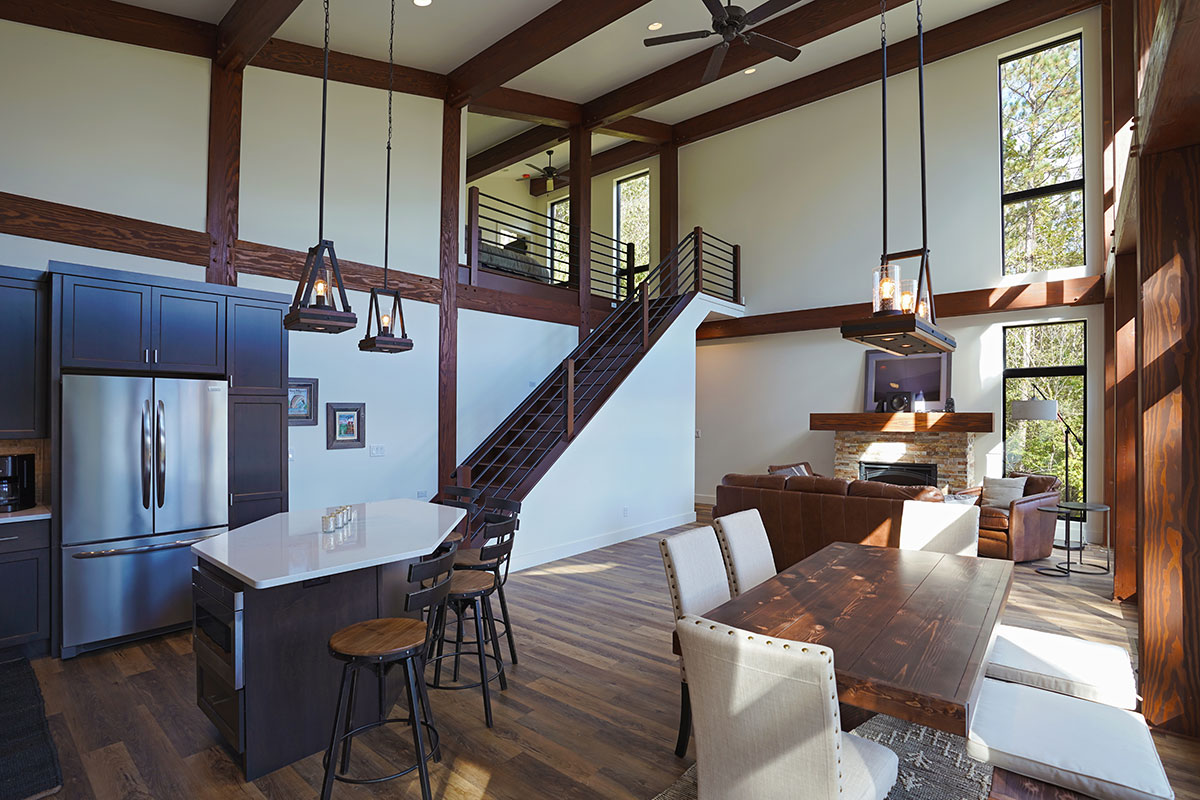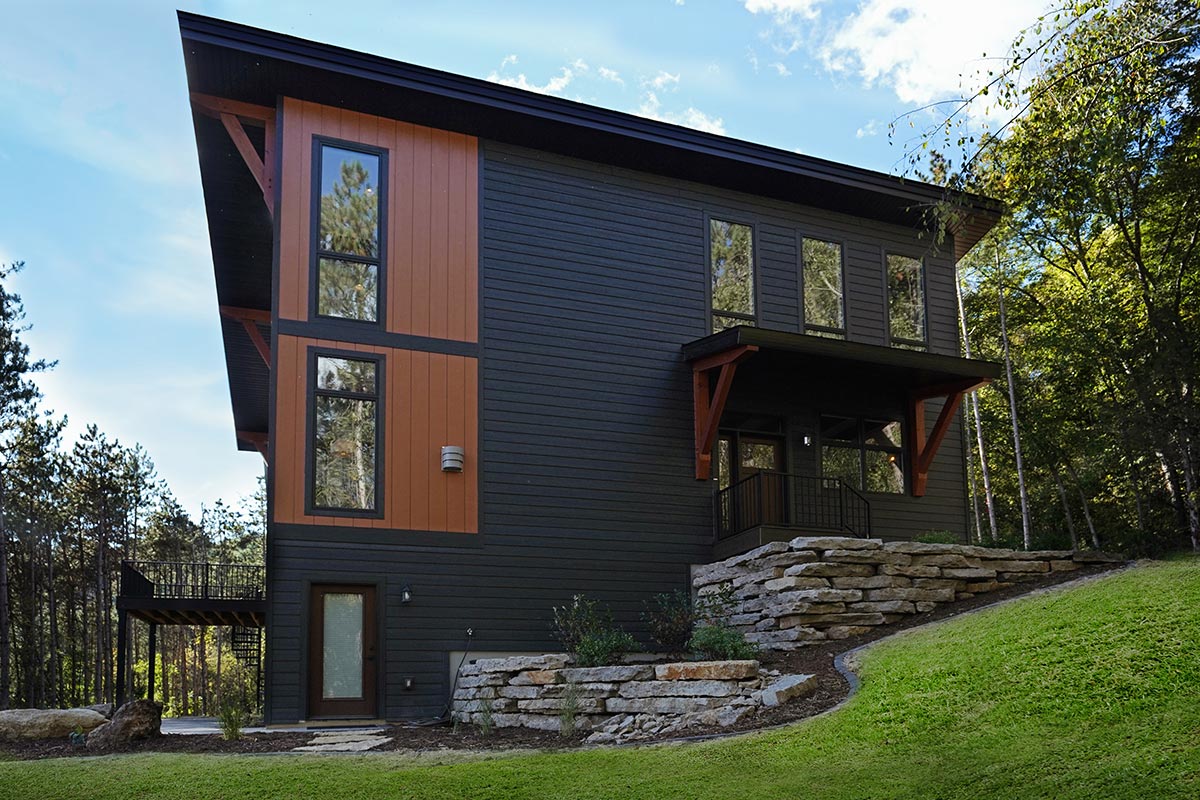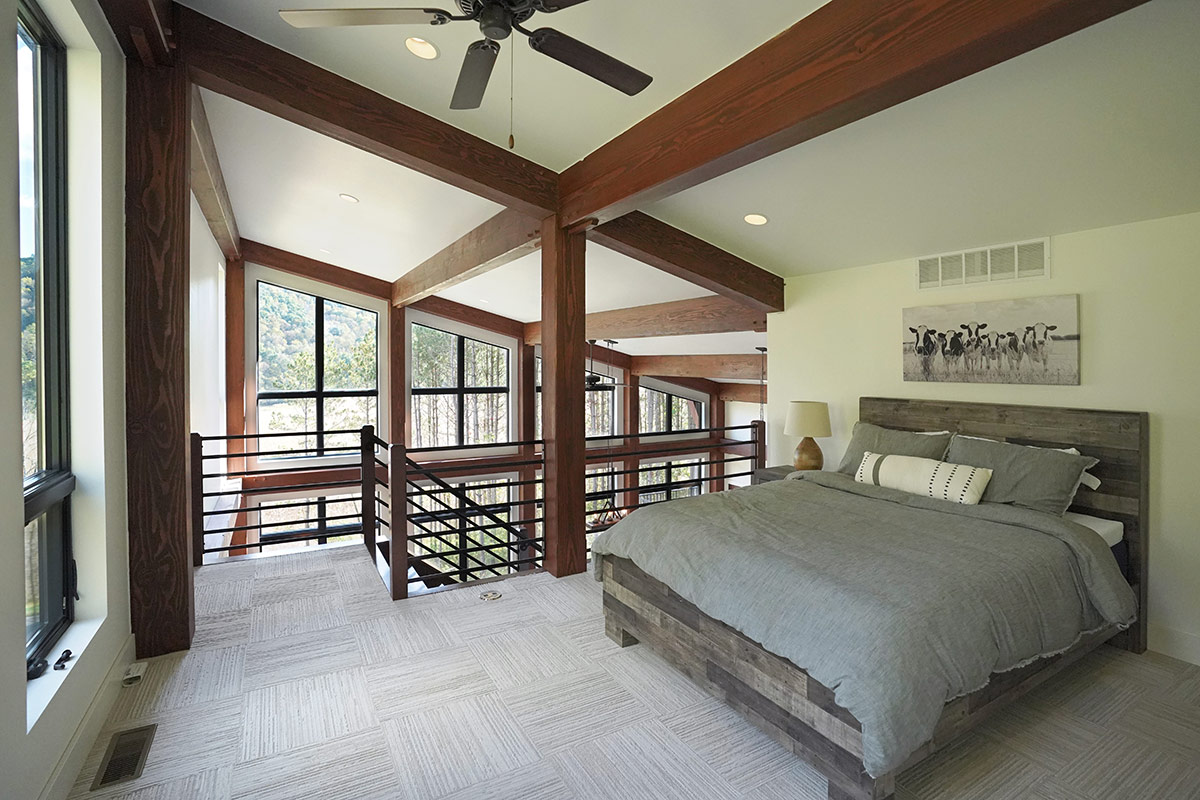 About Timber Frame Homes
A modern timber frame home can serve as launching point and landing pad for your outdoor adventures. A few of the activities from one of our timber log home retreats include:
Destination Trout Fishing
Biking Excursions
Weekend Getaways
Paddling Adventures
Hiking Weekend
In addition to main home structures, we've been fortunate to create Timber Frame Man Caves, Northwoods Cabins, and Hobby Buildings. We travel throughout the upper Midwest including Wisconsin, Illinois, Michigan, and Minnesota. Let's embark on a building experience together. Trout season will be here before you know it.